---
 A dynamic, acoustic journey through Jerry Garcia's repertoire and beyond, this quartet offers original arrangements, surprising twists and turns, and jams that rise up your spine. Painted Mandolin moves your toes, and heels, and soul---pulsing through this music that we love. Painted Mandolin is: Joe Craven--Mandolin, Fiddle, Vocals and Percussion. Joe was a member of the Garcia/Grisman Band from 1991-1994, and a member of the David Grisman Quintet, from 1989-2004. Band leader, record producer, session player, festival MC and fashion insultant, Joe has recorded and performed with many great artists for over 40 years and he is an award winning educator.
Joe Craven--Creativity educator, former museum curator, visual artist, actor/storyteller, event emcee and recipient of the 2009 Folk Alliance Far-West Performer of the Year, Joe has made music with many folks – notably violinist Stephane Grappelli and Grateful Dead guitarist Jerry Garcia – to multi-whirled string guy David Lindley, harmonica wizard Howard Levy and seven years recording and touring with banjo fusionist Alison Brown.
Larry Graff--Guitar  and Vocals. Larry is the founding member of the world-famous Banana Slug String Band, for 32 years the Slugs have toured North America, bringing Eco-Science to kids and families. Larry, a Deadhead for 40 years, brings experience, knowledge, passion, energy and love to the stage...every time. 
Matt Hartle--Guitar, Banjotar, and Vocals. Matt is in his 5th year of residency at Grateful Sundays at Michael's on Main with Matt Hartle and friends, where he collaborates each week with the finest Grateful Dead musicians in California, and is lead guitarist of the China Cats.  His emotive and skillful playing, leaves audiences dancing, gasping, and wondering where he is playing next! He has performed in hundreds of Grateful Dead inspired shows in the last 20 years.  
Dan Robbins--Upright and Electric Bass. Dan has played and recorded in settings ranging from solos and duos to big band and orchestra. He is greatly admired for his exceptional tone and his harmonic and rhythmic sophistication... making him an in-demand bassist on stage, in the studio and as an educator.
---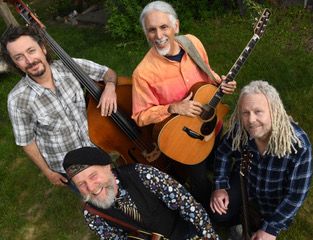 -photo by Michelle Niceley
---
OVATIONS
"What I really like about Painted Mandolin, beyond their musical prowess, is their ability to connect with their audience during their performances. The band has wonderful ability to draw people into the the music they are playing, whether the particular song is an energetic dance number or a soulful ballad. Catch them when you can. You will not be disappointed!"    Steve Zimmerman>>>>>Redwood Ramble Festival
"I am blown away by the talent exhibited on stage with the combination of players...they have hit on a combination symbiosis playing old Garcia tunes, traditionals, and the good ol' Grateful Dead...Joe is a master showman...the music is allowed to pour out of the speakers into the audience."   
Jay Saber>>>>>The Wheel Company
"You brought me to tears during your most hearfelt fiddle solo in Peggy-O.  I couldn't see through the viewfinder with tears welling up like that.  And that, my friend is why I go see live music."     
Michael Pegram>>>>>Photographer
"How do you possibly spice up the acoustic musical gumbo cooked up by Jerry Garcia's 50 years of pickin? You need more than great players.  You need highly creative, innovative spice masters to make it hot and fresh and imminently danceable.  You need Painted Mandolin."  Tom Miller>>>>>Michael's On Main